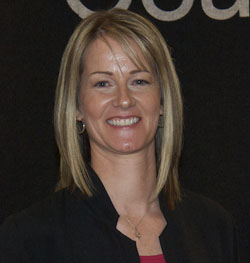 Shannan Brown
Executive Director
[email protected]
Shannan Brown is in her 22nd year in education and her third year as Executive Director for the San Juan Teachers Association (SJTA). Prior to her current role with SJTA, Shannan was teacher in San Juan for 18 years. She spent 12 years in the classroom at Thomas Edison Elementary, a title one school, and her teaching experiences include: 4th and 5th grades, English Language Development (ELD) intervention and a 1st grade Intervention class. She also held many leadership positions including: Student Council Advisor, Site Leadership Team member, Co-Chair of the Edison Community Organizing Project, and Co-Chair for the Home Visit Project.
During her time in the classroom, Ms. Brown created and lead professional development for her colleagues in a variety of areas including: Assessment Literacy, Behavior Management, Lesson Design, Mathematics, Writing, and Communication.
In 2011, Shannan was chosen to be San Juan Unified Teacher of the Year and later named both Sacramento County and California Teacher of the Year.
After leaving the classroom, she became President of SJTA and continued to support practitioners and to deepen collaboration in San Juan in many ways. Now as Executive Director, Shannan co-creates and co-leads district wide trainings: leadership team training, Faculty Rep and administration joint (moving from adversaries to problem solving teams), and most recently she's lead site level communication and conflict resolution trainings. Additionally, she works with SJUSD staff to find ways to support schools in tackling challenging issues.
Ms. Brown supports management collaboration outside of San Juan. She works with district and union teams to assist them in seeing new ways to support a broad spectrum of educators at varying levels by sharing San Juan's System of Professional Growth (SPG)* and Peer Assistance and Review (PAR)*. She also serves as the Director of CalTURN and serves on the steering committee for the California Labor- Management Initiative.
Shannan believes that the issues facing public education require a team approach: "Complex problems in education can only be solved when multiple perspectives are includes in not only identifying the issues to be solves, but in developing the solutions as well. Practitioners, their experiences and their perspectives, need to be part of that team."
* joint initiatives between SJTA and SJUSD